Note: Here is a post from a sports blog that myself and my two younger brothers run called When Larry Met Magic. The post is about Kevin Youkilis and his departure from the Red Sox yesterday. I thought it was relevant to A4IA because Youkilis was and is the type of player that any coach would love to have and that any player should try to emulate on a day-to-day basis.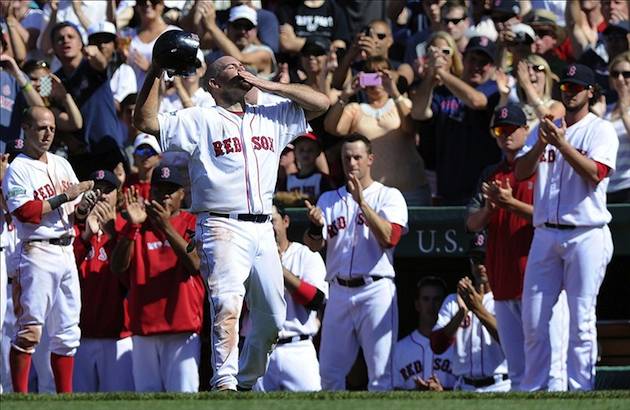 Although necessary, the departure of Kevin Youkilis from his home in Boston is certain to take an emotional toll on Red Sox Nation. A baseball player that all should emulate for his "Dirt Dog"-leave-it-all-out-there-go-hard attitude, Youuuuukkkkk surely has had one of the most storied and successful careers of anyone to don a Sox uniform.
He began his ride with the Red Sox back in 2004 and (kind of) helped vanquish the ghosts of 1918 and the Great Bambino. He was around for the Red Sox second Sox World Series title of the century in 2007, one in which he played a more prominent roll for the World Champs. The following three years (2008-2010) will be regarded as Youk's best when he hit
.308/.404/.560
with 75 home runs. 2010 was a different story, however, when injuries took their toll on the "Greek God of Walks," as Billy Beane nicknamed Youk back in his college days, and Youkilis mustered only a .258 average with 17 home runs. 2012 will more of less become a story of the emergence of rookie sensation Will Middlebrooks rather than the continued decline of Youk. The contrast between the two could not have been more black and white: "
Middlebrooks, it was noted by the Elias Sports Bureau, had put up numbers in his first 40 games -- .331 average, 9 home runs, 33 RBIs -- last accomplished, among players in their first 40, by one
Albert Pujols
." Simply, it was only a matter of time before the third base torch was passed to the kid – yet, it happened well ahead of Youkilis's schedule.
Time will tell if Youk's steady decline as a Red Sox hitter was due to an accumulation of injuries, advanced age, or simply putting too much pressure on himself. Nevertheless, that should not matter. Like all others of Red Sox lore who have come and gone, leaving with them an undeniably extraordinary mark on Boston Red Sox history and the Green Monster, Kevin Youkilis should not be remembered for his lesser statistics over the past year and a half. Rather, he should be celebrated for his triumphs in a Boston uniform: two-time world champion, two top-ten MVP finishes, a gold glove, 3 All-Star game appearances, and countless more unforgettable moments. I can vividly remember the New York Yankees repeatedly throwing at Youkilis out of hatred, but more out of respect. Rick Porcello of the Detroit Tigers will certainly never forget when, after a bean ball, Youk broke out into a full sprint towards Porcello, hurled his helmet at him, and attempted a takedown. "Take every at bat as if it was your last," is something that coaches consistently harp on to their players. Teammates, coaches, and fans alike know that Kevin Youkilis took that saying to another level. A fan of professional baseball can't ask for anything more than that.
There should be no "smear campaign" for Youk as we saw with Nomar, Mo Vaughn, and Terry Francona. No, Youk's career in Boston did not end harmoniously, but there is no need to sweep under the rug all his accomplishments. A simple thank you and a tip of the cap in acknowledgement is all Youk would want from Red Sox Nation.
The Red Sox organization will move have moved on as quickly as the time it took Youkilis swiftly hustle out of Fenway Park in the seventh inning of yesterday's game in Boston during a heartfelt farewell standing ovation. Don't let him fade away that quickly, Red Sox Nation; he doesn't deserve to. Here's to one of the last "Dirt Dogs," Kevin Youkilis. Thank you.
Scroll to 2:30 for Youkilis's imitation... Comedic gold.
Feel free to check out the blog When Larry Met Magic if you are a fan of sports and humor.